HONG KONG (Reuters) – China's biggest social network and gaming firm Tencent Holdings, which last week reported forecast-beating quarterly results, is close to making Malaysia the first foreign country to roll out its WeChat ecosystem, an executive told Reuters.
Tencent has made a "breakthrough" in gaining an e-payment license in Malaysia for local transactions, and plans a launch early next year, senior vice president S.Y. Lau said in an interview.
The move pits Shenzhen-based Tencent against rival Alibaba Group as they scramble for new growth opportunities outside China. Tencent this week became the first Asian firm to enter the club of companies worth more than $500 billion, and on Tuesday surpassed Facebook in market value.
"Malaysia is actually quite large in the sense that we have 20 million WeChat users, huge potential, and the market is quite warm towards internet products from China," Lau said.
Southeast Asia, home to more than 600 million people and some of the world's fastest-growing economies, has been a key battleground for China's tech titans fighting for deals. Ethnic Chinese make up more than a fifth of Malaysia's population.
WeChat Pay and Alibaba's Alipay, which dominate China's digital payment market, have sought to expand their global footprint, although that push has so far been limited to payment services for Chinese outbound tourists. They can scan-and-pay for purchases in 34 countries or regions via Alipay and 13 via WeChat Pay, according to the companies.
Alipay's parent company Ant Financial has joint ventures in seven markets for local digital payments services, which operate independently under the partnerships' brand names.
Alibaba is looking to build a global payment system, while Tencent is more interested in generating traffic for WeChat – two different strategies, some bankers and investors say.
WeChat has more users, but Alipay's aggregate transaction volume is higher, according to JP Morgan's John Hall, though other investors note that WeChat Pay can also process large transactions if it's used on e-commerce platforms.
GLOBAL EXPANSION
One challenge for Tencent, say analysts, is that its success in China cannot be easily exported to other markets.
Tencent is "not in a hurry" to speed up its overseas expansion or increase the monetization rate of its digital assets, Lau said.
"We walk our own path at our own pace … and, to be honest, there is really quite a lot to do in China," he said.
WeChat, which has ballooned from a messaging app to an all-in-one platform with 980 million monthly active users, could be the "killer product" to spearhead expansion abroad, Lau said, as its embedded payment function draws more services.
WeChat, with an open platform of mini-programs, was a key revenue contributor for Tencent in the third quarter. Social and other advertising revenue rose 63 percent, while payment and cloud helped "other business" post a 143 percent jump
"Honour of Kings", Tencent's top-grossing battle game that led an 84 percent increase in quarterly smartphone gaming revenue, also owes its success to the network help of WeChat, and is expected to find it tougher to crack Western markets, analysts say.
Tencent this month delayed the launch of the game's U.S. edition, "Arena of Valor", to next year to "further polish additional gameplay and social features".
After games and social media, most of Tencent's other businesses are in digital content, including Spotify equivalent Tencent Music and YouTube equivalent Tencent Video, which also makes its own dramas.
CULTURE CHALLENGE
Lau said the ultimate aim was to export culture from China to the rest of the world, rather than the other way round, which he acknowledged was challenging.
"What we're aiming to create is 'super IPs' (intellectual property) that leverage our different businesses from upstream to downstream," Lau said, citing Disneyland and the James Bond movies as successful practices in the West.
A big business for Tencent's recently listed publishing arm, China Literature, is to sell its popular novels and have them turned into dramas and video games by Tencent's other business lines.
Tencent this month announced a plan involving 10 billion yuan ($1.51 billion) of investment to boost its creative content ecosystem, though it gave no time frame for the investment.
Company president Martin Lau – no relation to S.Y. – said on an earnings call last week that Tencent would keep investing in digital content, especially online video, to draw more time from more paying customers.
RELATED VIDEO
Overseas acquisitions will remain a key way of enhancing Tencent's global access and competitiveness, S.Y. Lau said.
Independent technology analyst Richard Windsor said Tencent's 2016 acquisition of Supercell gave it a strong position in gaming, while the move to buy a stake in social media firm Snapchat is another piece in the jigsaw.
"It increasingly looks as if Tencent is embarking on a circumnavigation of the digital life pie in order to build an ecosystem to challenge the Google, Apple, Amazon, Facebook dominance of consumer digital services," he said, noting it's at a "super early stage" in that process.
Tencent will likely seek more overseas acquisitions, Windsor added, which, beyond being expensive, could challenge Tencent in integrating all its digital assets at home and abroad.
Tencent has struggled to monetize its dominance over the Chinese digital life, he said, adding that's why he sees more upside in Tencent's market valuation, and prefers it to Alibaba.
Henry Sapiecha
Cloud computing is uniquely susceptible to the perils of myths due to the nature, confusion and hype surrounding it, says David Mitchell Smith, Gartner vice president and fellow.
Myths are sometimes harmless but they do have an effect on how we approach solutions and can impede innovation, he states in a recent research paper. "Many myths are rooted in fear and misunderstanding. They can drive decisions and strategies based on fear and this leads to oversimplifications and mantras that are the real dangers."
Even with a mostly agreed on formal definition, multiple perspectives and agendas still conspire to mystify the subject ever more. Add the incessant hype and there can be a resultant confusion that permeates IT (and beyond) today, he says.
He lists some of the most "dangerous and misleading" cloud myths.
Myth 1: The cloud is always about money
The most prevalent myth about the cloud is that it always saves money, he states.
While prices are dropping, especially for infrastructure as a service (IaaS), not all cloud service pricing is coming down (for example, most software as a service [SaaS]). Assuming that the cloud always saves money can lead to career-limiting promises. Saving money may end up one of the benefits, but it should not be taken for granted.
Myth 2: You have to be cloud to be good
This is the manifestation of rampant "cloud washing." Some cloud washing is accidental and a result of legitimate confusion, but some is also based on a mistaken mantra (fed by hype) that something cannot be "good" unless it is cloud. IT organisations are also increasingly calling many things cloud as part of their efforts to gain funding and meet nebulous cloud demands and strategies. The resultant myth is that people are falling into the trap of believing that if something is good it has to be cloud.
Myth 3: Cloud should be used for everything
Related to Myth 2, he says this refers to the belief that the actual characteristics of the cloud are applicable to, or desirable for, everything. Clearly, there are some use cases where there is a great fit, however, not all applications and workloads benefit from the cloud. Unless there are cost savings, moving a legacy application that doesn't change is not a good candidate.
Myth 4: "The CEO said so" is a cloud strategy
When asked about what their cloud strategy is, many companies don't have one and the default is often (stated or not) that they are just doing what their CEO wants. This is not a cloud strategy. A cloud strategy begins by identifying business goals and mapping potential benefits of the cloud to them, while mitigating the potential drawbacks. Cloud should be thought of as a means to an end. The end must be specified first.
Myth 5: We need one cloud strategy or vendor
Cloud computing is not one thing and a cloud strategy has to be based on this reality. Cloud services are broad and span multiple levels (IaaS, SaaS), models ("lift and shift", cloud native), scope (internal, external) and applications. A cloud strategy should be based on aligning business goals with potential benefits. Those goals and benefits are different in various use cases and should be the driving force for businesses, rather than any attempts to standardize on one offering or strategy.
Myth 6: Cloud is less secure than on-premises capabilities
Cloud computing is perceived as less secure. This is more of a trust issue than based on any reasonable analysis of actual security capabilities. To date, there have been very few security breaches in the public cloud — most breaches continue to involve on-premises data centre environments. While cloud providers should have to demonstrate their capabilities, once they have done so there is no reason to believe their offerings cannot be secure.
Myth 7: Cloud Is not for mission-critical use
Cloud computing is not all or nothing. It is being adopted in steps and in specific cases. Therefore, it is not surprising that early use cases are mainly not for mission-critical systems. However, many organisations have progressed beyond early use cases and experimentation and are utilising the cloud for mission-critical workloads. There are also many enterprises (not just small startups any more) that are "born in the cloud" and run their business (clearly mission-critical) completely in the cloud.
Myth 8: Cloud = data centre
Most cloud decisions are not (and should not be) about completely shutting down data centres and moving everything to the cloud. Nor should a cloud strategy be equated with a data centre strategy. Neither should it be done in a vacuum — there should be data centre space for things not in the cloud and, if things are moved out of the data centre, there are implications. But they are not the same thing. In general, data centre outsourcing, data centre modernisation and data centre strategies are not synonymous with the cloud.
Myth 9: Migrating to the cloud means you automatically get all cloud characteristics
Don't assume that "migrating to the cloud" means that the characteristics of the cloud are automatically inherited from lower levels (like IaaS), . Cloud attributes are not transitive. Distinguish between applications hosted in the cloud from cloud services. There are "half steps" to the cloud that have some benefits (there is no need to buy hardware, for example) and these can be valuable. However, they do not provide the same outcomes.
Myth 10: Virtualisation = private cloud
Virtualisation is a commonly used enabling technology for cloud computing. However, it is not the only way to implement cloud computing. Not only is it not necessary, it is not sufficient either. Even if virtualisation is used (and used well), the result is not cloud computing. This is most relevant in private cloud discussions where highly virtualised, automated environments are common and, in many cases, are exactly what is needed. Unfortunately, these are often erroneously described as "private cloud".
In light of these, he says, CIOs should never assume everyone has the same understanding, view, expectations or even definition of cloud computing.
Avoid "one size fits all" and overly simplistic answers to complex situations," he states. The cloud is not one thing.
He likewise advises: "Maintain sight of business goals and align the potential benefits (and drawbacks) of cloud computing with them."
ooo
Henry Sapiecha
FACEBOOK & APPLE ARE IN TALKS ABOUT FACEBOOK MOBILE APP
Facebook is talking to Apple about crafting a version of its new mobile software for the iPhone, in a push to boost revenue from the growing number of users who access the social network on smaller screens.
After debuting the software, called Home, for Google's Android operating system earlier this month, the operator of the world's biggest social-networking service is speaking to Apple and Microsoft about expanding to other platforms, said Adam Mosseri, director of product at Facebook. The talks are ongoing and nothing has been finalised, he said.
Now that the majority of users access Facebook via mobile devices, chief executive Mark Zuckerberg is looking for ways to keep them engaged longer and coaxing more advertisers to pay to place promotions. While Google's Android software powered about 70 per cent of smartphones worldwide last year, Apple's iOS operating system commanded about 21 per cent, according to Gartner.
"We've shown them what we've built and we're just in an ongoing conversation," Mosseri said, referring to discussions with Apple and Microsoft.
Jen Martin, a spokeswoman for Apple declined to comment. Bill Cox, a spokesman for Microsoft, didn't respond to an email seeking comment.
Already, Facebook and Apple have a "great relationship", Zuckerberg said when he introduced the Home software earlier this month.
'Active dialogue'
"We are integrated into the operating system with them," Zuckerberg said. "We have an active dialogue to do more with them."
On iPhones, the Home software would be tailored to what Apple prefers, Mosseri said. It could look much different to the Android version.
"It may or may not be Home," he said. "We could also just bring some of the design values to the iOS app. That might be how it ends up. Or we could build just the lock screen. Maybe then it's not called Home, it's called something else."
The new Home software is designed for newer Android handsets, including some made by Samsung and HTC. Home, which will have monthly updates, can be installed from Google Play, Google's online app store.
While the program will not initially have advertising, Zuckerberg said promotions will be included in future updates.
"There are no ads on this yet," Zuckerberg said. "I'm sure at some point there will be."
Henry Sapiecha
The billion dollar deal in under 2 years
App Instagram success team
California has been famous since the gold rush for creating fortunes overnight. The Golden State was a dream factory for get-rich-quick schemes from pioneers with pickaxes to beautiful people aiming to be Hollywood stars.
But only in Silicon Valley can a couple of 20-somethings turn 551 days, or 78 weeks, of work into a $US1 billion fortune.
Kevin Systrom, 28, joined the long line of technocrats turned plutocrats on Monday in the US when he sold Instagram, a profitless photo-sharing app that's less than two years old, for $US1 billion.
He sold it to that other wunderkind, Mark Zuckerberg, 27, the Facebook founder whose social network is now worth an estimated $US100 billion.
Systrom, a former Google employee, is understood to own about 40 per cent of Instagram, which is now worth $US400 million.

His co-founder Mike Krieger, 25, is believed to have about 10 per cent, worth $US100 million. The rest will be shared with investors and the company's other employees – all 11 of them.
Even by Silicon Valley standards, it's a remarkable haul for a company that has been around for less than two years.
If Facebook had been paying Instagram from the start it would work out that Instagram was making roughly $US1.8 million a day from the social networking giant, or $US12.7 million a week.
Instagram was not the first, or the only, mobile app offering people a way to share their photos on Twitter, Facebook or Flickr. Nor was its use of filters to add visual effects to those shots a new idea. But what made it stand out was its success.
Last week Instagram raised $US50 million from venture capital firms, valuing Systrom and Krieger's baby at $US500 million. Zuckerberg had reportedly already approached Systrom and asked to buy the firm but, after the funding, he came back with an offer that could not be refused: double the price.

Instagram might not make a cent but it is the hottest mobile app in the world and Facebook is preparing for the biggest IPO in tech history.
To date people have questioned Facebook's mobile strategy. Zuckerberg started his social network in the days when PCs and browsers ruled the internet. Even 20-somethings can look a bit dated in these fast moving days. And $US1 billion is a small price to pay for new school cool, if you are worth $US100 billion.
Systrom, a Stanford University graduate like so many Silicon Valley multimillionaires, grew up in Boston but was an early witness to the dotcom boom. His mother, Diane Systrom, worked at Monster.com during the first internet era and is now an executive at Zipcar, the online car rental business.
The history of the billion-dollar deal goes back to his university days where he was studying for an engineering degree. Systrom, a big photography fan, started looking at ways to share photos online. His interest subsided as he looked for a job, ending up at Google, where he spent two years in product and corporate development.
Systrom's next job was at Nextstop, a trip-recommendation site that Facebook bought for a rather measly $US2.5 million.

Systrom then started Burbn, named after his favourite liquor, a company that focused on the super-hot area of mobile but whose basket of services seemed to lack any clear identity. It had photos but also check-in capabilities, such as Foursquare, and other apps.
Along came Krieger, another Stanford graduate, and the two started talking about narrowing their focus.
On the Q&A site Quora, Systrom explained the genesis of Instagram: "We decided that if we were going to build a company, we wanted to focus on being really good at one thing.
"We saw mobile photos as an awesome opportunity to try out some new ideas. We spent one week prototyping a version that focused solely on photos. It was pretty awful. So we went back to … Burbn. We actually got an entire version of Burbn done as an iPhone app, but it felt cluttered, and overrun with features.
"It was really difficult to decide to start from scratch, but we went out on a limb, and basically cut everything in the Burbn app except for its photo, comment, and like capabilities. What remained was Instagram. (We renamed because we felt it better captured what you were doing – an instant telegram of sorts. It also sounded camera-y.)"
The rest is Silicon Valley history. Launched in October 2010, Instagram was an instant hit. More than 30 million people have downloaded the app now. When the firm launched an Android version this month, it attracted 1 million downloads in 12 hours. People love sharing their photos online and making them look like their dad took them in 1980 with a camera he borrowed from his dad.
And the app they want to do it with is Instagram.

Pinterest Blogger captures stardom by pinning 5700 images on site.
Christine Martinez spent the past week frolicking on the Caribbean island of St Barts after becoming a star by sharing her sense of style at Pinterest.com.
Pinterest has become the web's hottest young website, particularly among women, by giving people virtual bulletin boards that they decorate with pictures showcasing interests in anything from food to sports, fashion or travel.
"Gawd I love Pinterest," fashion blogger Martinez said in a Twitter message fired off between flights on Friday as she made her way back to her home in the Californian city of Oakland

Nearly a million people have signed up to follow Martinez at Pinterest where people "pin" pictures they have taken or, in most cases, plucked from elsewhere on the internet.
"I have a penchant for pretty," Martinez said in her Pinterest profile, which had a picture of her with her cherished dog 'Miles.'
As of Saturday, she had 43 Pinterest boards with more than 5700 images reflecting her taste in jewellery, swimsuits, and more.
Pinterest is such an influential fashion venue that chic beachwear label Calypso St Barts took her to the French island territory for a week to "live pin" the label's swimsuit photo shoot.
"Pinterest is the latest procrastination tool of the masses," Avery Spofford of fashion website shefinds.com wrote in an online post citing Martinez's adventure as evidence of Pinterest's clout.
"Mostly, people just like to look at photos of puppies and cake and interior design," Spofford continued. "Us, too!"
Pinterest was launched in early 2010 and has been growing at a dizzying rate in the past six months despite being invitation-only. The website reportedly has more than 13 million users.
Pinterest is driving more online traffic to retail websites than social networks LinkedIn, YouTube and Google+ combined, according to a January report from Shareaholic.
The first investor to back in the venture, Brian Cohen, is delighted with its results so far.
"Pinterest's traffic charts aren't hockey sticks – they're rocket ships," internet tracker RJ Metrics said in an analysis released last month.
"Pinterest is the hottest young site on the internet."
Brands are leaping onto Pinterest, setting up pages to appeal to prime shopping demographics or forming collaborations such as the one between Martinez's MilestoStyle.com blog and Calypso.
"The amount of free advertising a brand gets on Pinterest is ridiculous," blogger Kerry Sauriol wrote at WomenInBizNetwork.com.
"Without even having their own Pinterest boards, clothing companies, furniture designers, tech companies, and on and on have their products pinned and adored," she continued.
"Think of the marketing power of a brand that does have a board."
Other websites have begun adding "pin it" buttons inviting visitors to decorate Pinterest pages with images using a single click, according to co-founder Ben Silbermann.
"The last few months have been a whirlwind here at Pinterest," Silbermann said in a recent blog post. "It's humbling, and exciting."
The small Pinterest team works in box of an office in single-story building in downtown Palo Alto in Silicon Valley.
About a dozen engineers were working at rows of desks in an undecorated room when an AFP correspondent visited.
Pinterest said it was too swamped with attention from users and media for interviews.
Rampant pinning of images snagged from the internet has raised concerns about copyright violations at Pinterest.
The website follows procedures set out in US copyright law and has a form at the site for reporting violations, Silbermann explained. Each "pin" has a flag icon for marking pirated content.
"We care about respecting the rights of copyright holders," Silbermann said.
"Copyright is a complicated and nuanced issue and we have knowledgeable people who are providing lots of guidance."
Pinterest fans include Dave Morin, a longtime member of the Facebook team who left the leading social network to start Path.
Morin sees Pinterest as part of a trend for people in "the world's biggest club" Facebook to form sub-groups based on interests or close relationships.
"Now that the world understands how to be social through the internet people want unique experiences in different contexts," Morin said, noting that Path lets people intimately share with family and close friends.
"Pinterest has a space where you can talk about your deep interests," he continued. "In my case, deep interests in ski gear or photography gear."
BRISBANE AUSTRALIA SPAWNS A NEW FACEBOOK LIKE CONCEPT USING LIVE VIDEOS AS THE COMMUNICATION MEDIUM
A first name isn't the only thing Mark Cracknell has in common with Mark Zuckerberg.
Like the Facebook founder, Cracknell is a young man with big dreams and a background in computing. He also has a website, Kondoot, which, like Zuckerberg's famous social network, enables users to share their lives online.
Mark C may not have emulated Mark Z's stratospheric success just yet, but the comparison is already being drawn – by no less than the Wall Street Journal – after the 21-year-old Brisbane-based entrepreneur and partner Nathan Hoad returned from the US with $3.2 million in funding for their site.
Sourced & published by Henry Sapiecha
Facebook isn't the only online community with a captive audience.
IT IS no coincidence the Academy Award-winning account of Facebook's meteoric growth was entitled The Social Network.
After all, with more than 800 million active users globally and at least 250 million photos uploaded every day, the little blue website that started in 2004 as a mere side project to co-founder Mark Zuckerberg's university studies is now – indisputably – the social network.
Having long ago knocked the once-mighty MySpace out of its spot as the world's No.1 social-networking website, Facebook is proving unassailable, even to fellow tech behemoth Google.
Google +
Google's social network, the four-month-old Google+, has lured just 40 million users.
Digg
Linkedin
Among the hundreds, if not thousands, of wannabe Facebook killers, only a few dozen have garnered serious numbers.
Twitter
We might have all heard of Twitter (200 million-plus users) and perhaps even LinkedIn (120 million-plus users) but, especially in other parts of the world, none of these, not even Facebook, is king.
My space
Why? Because though such mind-boggling figures matter when you're courting investors or advertising dollars, they don't if you are truly trying to create a social network where like-minded people can mingle, as is evidenced by the surprising number of smaller communities based purely on niche interests, such as languages, lifestyles or even a love of a specific animal, that appear with surprising regularity.
QZone
With a whopping 480 million-plus users, QZone is bigger than Twitter, LinkedIn and MySpace (33 million-plus) put together.
It is the No.1 social network in mainland China, where Twitter and Facebook are banned. It's not entirely free, with many features only accessible after paying a fee that allows users to access a Twitter-like micro blog, instant messaging, photo sharing and music streaming.
Pinterest
Just 19 months old, the invitation-only Pinterest is a highly addictive image-based social network where users share their favourite images with friends.
It might not sound terribly interesting but for right-brained creative types who love collecting pictures of "stuff", it's a digital dream. It allows users to share ideas and concepts that couldn't possibly be conveyed in words.
Businesses such as ad agencies and graphic designers use it to get a feel for what clients want. Those planning weddings use it as a digital cork board filled with dress designs, ideas for cakes and colour schemes.
ASMALLWORLD
Founded by Swedish banker Erik Wachtmeister and his wife, Countess Louise Wachtmeister, ASMALLWORLD is an invitation-only social network for "the elite" who don't want to rub shoulders, even digitally, with the hoi polloi.
It is thought to have about 500,000 users, including James Blunt and Ivanka Trump, among others, and allows them to discuss important matters such as fine dining in the world's great cities, seek out appropriately vetted flat mates and, most importantly, socialise with those of their own fine, well-bred and well-heeled ilk. Of course, we can't verify any of this – we've never scored an invite.
Instagram
Snap-happy iPhone owners can share their daily goings-on via photos, which can be edited on the fly. It's like Facebook without words or Twitter using only pictures.
Snap a picture and upload it to your Instagram profile to let your friends and followers know what you're doing, when you're doing it and where such excitement is occurring. You can't even add a caption (but you can leave a comment).
Depending on how interesting – or good – your happy snaps are, others will start following and interacting with you and you'll see some stunning photography. With more than 1 million photos shared every day, it is absolutely mesmerising and lets you do something useful with that bursting iPhone Camera Roll.
Orkut
Owned by Google, the multilingual Orkut was once massive in India and Pakistan – until Facebook came along.
Now its biggest audience is Brazil, where 58.7 per cent of its 66 million or so users reside. Indians make up 28 per cent of users, while Japan is the third-largest community – but only at 5.3 per cent.
Orkut offers a simple, youth-oriented interface that includes lots of "cute" teen-friendly features such as "cool" rankings. One of its most clever features is the ability to add people to your "Crush List", where, if both members independently add each other, they will be informed of their mutual admiration. It adds a digital twist to the age-old, angst-ridden notion of unrequited love.
Ning
Netscape co-founder (and tech guru) Marc Andreessen is behind Ning, a DIY social-networking service that lets the likes of you and me take on Mr Zuckerberg. Well, not quite.
But you can build a website or social network based on your design and target market. Plans start from about $3.95 a month for a basic, home-spun social-networking site with no more than 150 users; you'll pay between $29.95 (up to 10,000 members) and $59.95 (unlimited members) a month if your user base grows. Depending on which subscription plan you choose, you'll be able to offer many of the features included on "real" social networks, from live chat and photo sharing to uploading video in branded media players
Despite many registering their 'dislike', the social network's new features are here to stay.
WHEN Facebook revamped many of its most heavily used features lately, millions of users were not exactly happy. For days, the hashtag #newFacebook on Twitter was a litany of complaints: the new features were too busy, too complicated, too "un-Facebook".
But the changes – which chief executive Mark Zuckerberg and the Facebook brains trust see as the most important since the addition of games and other software apps in 2007 – are not going away. Perhaps the biggest innovation, a feature called Timeline, which Zuckerberg calls "the story of your life", isn't even officially available yet.
Facebook is taking the main feature people use to keep up with the activities of their friends and splitting it into two: Ticker and News Feed.
The significant addition is Ticker, a virtually unfiltered, automatically updating stream of the actions of your friends. Ticker, which scrolls down the upper right side of the home page, is supposed to provide a real-time sense of what your friends, and the brands and businesses you like, are doing at any moment.
By clicking a Ticker item, you can join in instantly – from sending a happy birthday wish, to friending someone your friend is friending, to listening to the new Wilco album through the Spotify app.
The stream of Stories that runs down the centre of the home page is still there but it has been changed.
Since it was launched five years ago, News Feed has been a primary way people keep track of their friends. "[It] is the lifeblood of Facebook," says Meredith Chin, a communications manager for the company.
You used to be able to toggle back and forth between Top Stories, the posts Facebook's algorithms judged most interesting to you, and Most Recent, the freshest content. Now, there is one News Feed with the content Facebook judges to be most interesting based on your interests and social connections.
Relationships on Facebook used to be two-way connections; both parties had to agree. Now the Subscribe button allows you to create one-way relationships with anyone, just like Twitter.
Celebrities or leading business figures on Facebook are unlikely to agree to friend requests from millions of fans. But by visiting their profile pages and clicking Subscribe, every post publicly shows up on a News Feed. Existing friends are automatically subscribed to each other but the feature allows you to adjust whether you want to see all their posts, some of them or only the most important ones – useful for people you don't dislike enough to unfriend but who share too much.
Also in Slate, predict how much The Social Network will take at the box office.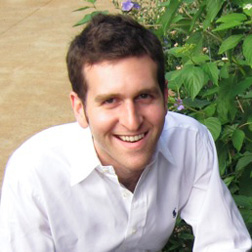 In a parallel universe, there is a blockbuster movie coming out soon about a Web site that changed the world. It's called The Social Network. It stars Jesse Eisenberg as the site's wunderkind creator. It features wealth and drama and Ivy League shenanigans. But it's not about Facebook. It's about another site, Campus Network, and its founder, Adam Goldberg, a guy who came within arm's reach of a multibillion-dollar idea that ultimately just slipped his grasp.
As The Social Network dramatizes, Mark Zuckerberg founded Facebook after allegedly backing out of a commitment to work on another networking site, Harvard Connection. Lawsuits ensued, and Zuckerberg ended up shelling out tens of millions of dollars in a settlement with his one-time partners. What the film doesn't mention are all the other college social networks that Facebook shoved aside as it expanded across the country. Of those sites, perhaps the greatest threat to Facebook's dominance was Campus Network, then called CU Community after Columbia University, where it was founded.
"If you talk to Mark, he'll be the first to tell you he thought CU Community was the biggest competition that Facebook ever had," says Goldberg, now 26 years old and living in New York City. While I was unable to confirm that Zuckerberg agrees with this statement—the Facebook CEO and the company's PR reps didn't respond to my requests for an interview—it is true that Facebook and CU Community were running neck and neck for a brief moment in Internet history. Facebook had Harvard, CU Community had Columbia, and both were mulling plans for expansion. Only one site would survive. It wasn't to be Adam Goldberg's.
Goldberg got the idea for Campus Network in 2003, during his freshman year at Columbia's school of engineering. As president of his class, he heard a lot of complaints about the university's lack of community spirit. Over the summer, he wrote a simple script for a social network for engineering students. The site let users share personal information, post photos, write journal entries, and comment on one another's posts. In just a few weeks, Goldberg says, most of the engineering students had profiles. Over winter break, he rebranded the site CU Community and opened the site to all undergraduates in January. Goldberg says that nearly all  Columbia students signed up in just over a month.
On Feb. 4, Facebook launched. "At first I was like, Oh my God, they copied my Web site," says Goldberg. Unlike Zuckerberg's Harvard Connection adversaries, however, the CU Community founder quickly changed his mind. "I saw it was totally different. It had an emphasis on directory functionality, less emphasis on sharing. I didn't think there was that much competition."
As of early 2004, Goldberg's social network was a lot more advanced than Mark Zuckerberg's. The first incarnation of Facebook—known as The Facebook back then—let users post a photo and basic biographical information. It let them "friend" and "poke" each other. But that was about it. Fancier tools like photo sharing and Groups and the Wall didn't come till later. Meanwhile, CU Community already had blogging and cross-profile commenting. Facebook's simplicity and the fact that it was available only to Harvard students made it easy for Goldberg to dismiss. "We were the Columbia community, they were Harvard," he says.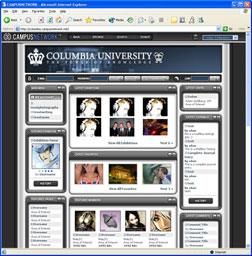 The illusion of safety crumbled a month later when Facebook opened its doors to students at Stanford, Yale, and Columbia. While Facebook grew exponentially at Harvard and Stanford, growth was slower at Columbia—in part, says Goldberg, because CU Community was already so entrenched. Some Columbia students launched a campaign to "Google bomb" Facebook by linking the search term "cucommunity ripoff" to TheFacebook.com and "worthless safety school" to Harvard.edu. The Columbia Spectator called the effort "marginally successful." (I wrote for the Spectator at the time.) Despite this online agitprop, Facebook continued to grow. That summer, it overtook CU Community as the most popular social network on campus.
That spring, Goldberg started instant messaging with Mark Zuckerberg. In March, he met with Zuckerberg and Sean Parker, the Napster co-founder and early Facebook investor, at a Starbucks on 96th Street. According to Goldberg, Parker tried to persuade Zuckerberg to acquire CU Community. Zuckerberg didn't tip his hand, but Goldberg says they kept in touch. In June, he says, Zuckerberg invited him to Palo Alto, Calif., where the Facebook crew had moved to work on the site. Goldberg flew out and stayed with Zuckerberg and pals for two weeks. "I think we went to one Stanford party," he says. There was "no crazy partying or drinking," Goldberg says, despite what The Social Network may suggest.
The invitation to come to Palo Alto was basically a job offer, says Goldberg. "They didn't give me a clear salary and working terms. It was, Come out here and work with us." He remembers that Zuckerberg even offered to pay for Goldberg's flight.
Goldberg said no, thanks. "I really believed that Campus Network was a better product," he says. He spent the summer of 2004 coding a new site, rebranded it Campus Network, and launched it at five other schools in September. But Facebook was expanding, too. "We made a strategic decision to go after Big 12 schools," says Wayne Ting, who ran business and legal operations for Campus Network. "But when we went to the Big 12, Facebook immediately went to the Big 12, too. They were clearly monitoring our activity."
Ting's analysis squares with a description of Facebook's "surround strategy," as described in David Kirkpatrick's book The Facebook Effect. "If another social network had begun to take root at a certain school," Kirkpatrick writes, "Thefacebook would open not only there but at as many other campuses as possible in the immediate vicinity. The idea was that students at nearby schools would create a cross-network pressure, leading students at the original school to prefer Thefacebook."
Beating Facebook would take all the time, energy, and cash that Goldberg had. He and Ting decided to take time off from school. They moved to Montreal, hired three employees, and set up shop in the offices of a programmer friend of Goldberg's. They slept on the office floor. Every morning, they woke up early and put away the air mattresses before the employees arrived. "We didn't want them to know we were homeless," says Ting.
It quickly became clear that Facebook was winning. One factor was that Zuckerberg's site had the financial means to expand. Goldberg says he turned down advertisers, including MTV, and didn't seek out venture capital: "We would have if we thought the reason we couldn't succeed was because of money." By the time Facebook hit 1 million users, Campus Network had only 250,000. Goldberg knew there was no catching up.

He returned to Columbia in the fall of 2005 and shut down Campus Network. Goldberg declined to put a figure on how much the whole effort cost him, but Ting estimated it was somewhere between $100,000 and $200,000.
In the meantime, Goldberg had launched a social network for high schools called Friendex. But he says he killed the project after a month at the request of Zuckerberg and the Facebook team. "They made me feel really bad for having launched it," he says. "So I took it down." Facebook soon expanded to high schools.
Why did Facebook succeed where Campus Network failed? The simplest explanation is, well, its simplicity. Yes, Campus Network had advanced features that Facebook was missing. But that wasn't necessarily a good thing. Goldberg's site smothered the user with doodads. Its pages were fully customizable, with multiple designs and backgrounds, not unlike MySpace. To sign up for Facebook, on the other hand, users had to fill in three fields: name, email, and password. User profiles were uniform, their contents intuitive—favorite movies and relationship status and class schedule. While Campus Network blitzed first-time users right away, Facebook updated its features incrementally. Facebook respected the Web's learning curve. Campus Network did too much too soon.
Other factors contributed to Campus Network's downfall. User profiles were open to the public, scaring off some potential enrollees and allowing cyberstalkers to satisfy their curiosity without joining. Campus Network didn't expand quickly enough, either, allowing Facebook to get a first foothold in potential markets. And its aesthetics didn't help. "It looked like somebody who loves Dungeons & Dragons," says Ting. "It had that look and feel." And of course there's the H-Factor. "I think the name had a lot to do with it," says Ting. "When we go to a school and say this site is from Columbia, it doesn't carry the same marketing punch as, This is from Harvard."
Neither site, of course, can claim to be the first social network—Friendster and MySpace already had large followings in 2003. But both Facebook and Campus Network had the crucial insight that overlaying a virtual community on top of an existing community—a college campus—would cement users' trust and loyalty. Campus Network figured it out first. Facebook just executed it better.
Does Goldberg regret not hopping onboard the Facebook express when he had the chance? To borrow a phrase, it's complicated. "In some ways I do, some ways I don't," he says. "I wasn't ready to drop out of school, to give up my own project. I thought the best way to do it was to do it myself." Ting tries not to dwell on it. "There are still moments when you feel a deep sense of regret, especially when I read an article about this movie or Mark Zuckerberg or see him on the cover of Time, and you ask, Could this be me? Could we have succeeded? I think that's a really painful question. … There are fleeting moments like that. But I'm much prouder that we took a risk and we learned from it."
Goldberg took two years off after graduation to study language in Argentina and France. He started writing a food blog. Now he's getting ready to launch a new site, Topic.org, a Wikipedia-style forum where users lay out arguments on issues like the BP oil spill and the death penalty. He maintains a Facebook profile, but it's hard to find unless you're already his friend. On his Facebook page, Goldberg has this as his favorite quote: "One does not discover new lands without consenting to lose sight of the shore for a very long time."
Sourced from slate & published by Henry Sapiecha
WHAT ARE THE MAIN THINGS TO LOOK FOR IN GOOGLE PLUS +?
Adopting a new social network like Google+ is taxing enough–re-adding friends, creating "Circles", adjusting privacy settings, etc.–so learning to navigate can be a bit overwhelming.
Luckily, we did the heavy lifting for you. Here are seven Google+ basics you should learn:
1. Bold, italics, and strikethough. Do you miss the funky fonts and formatting you had in MySpace? Neither do we. Google+, however, gifts you with three simple formatting tricks: *bold*, _italics_, and -strikethough-.
2. Tag friends in posts. Get a friend's attention in a post by tagging them. Type "+" or "@" followed by their name. You'll see an autocomplete drop-down menu show up as you type their name, which presumably includes people in your circles and extended circles.
Your friend will be notified they've been tagged in a post, and post visibility will automatically be set to just that person. Don't forget to add more circles and friends (if you want to) before sharing.
3. Use permalinks. Permalinks come in handy for sharing and cleaner viewing of single posts. Just click the timestamp of any post and you'll be taken to a new page displaying just that post.
4. Quickly share post on Twitter and Facebook. Oh, the irony. To share a post with your Twitter or Facebook network, use the Extended Share for Google Plus Chrome extension. Upon installation, you'll see a new option ("Send to…") below each post in your stream.
5. Edit photos. Here's a nice feature for any on-the-fly photo editing. Go to your photos (accessible via your profile), select a photo. Click "Actions" > Edit photo, and you'll be presented with several photo filters. Scroll through other photos in the album for consecutive editing.
6. Send a "direct message". To send a message to just one friend, tag them in the beginning of a post and let them know it's a private message. Then, comment on the post to establish your own, private thread.
7. Let friends e-mail you from your profile. With this setting, you can let people e-mail you directly from your profile. Head to your profile, then select "Edit profile".
Below your profile photo, you'll see a grayed out "Send an email". Click it, and check "Allow people to email me from a link on my profile". Then adjust the privacy settings below.
Sourced & published by Henry Sapiecha